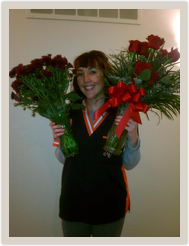 Dr. Amanda Denomme-Stough, D.D.S.
Dr Amanda Denomme-Stough graduated from Oakland University in Rochester, Michigan with honors in a double major in French and German Language and Literature, and a minor in Biology. She is fluent in French and German. Dr Denomme-Stough received her Doctorate in Dental Surgery from the University of Detroit Mercy School of Dentistry in 2006. She is a member of the ADA (American Dental Association), MDA (Michigan Dental Association), SWMDS (Southwestern Michigan Dental Society), and an Associate Fellow in the World Clinical Laser Institute. She also received training in Forensic Dentistry with the Wayne County Medical Examiners Office in Detroit, MI while at U of D Mercy.

Dr Stough has two children, a son, Ian, and daughter, Charlotte. She lives on a farm where she raises rabbits, pigs, sheep, goats, and even snakes. When she's not working or tending the farm, she enjoys the Detroit Tigers, traveling, snorkeling, tennis, and spending time with family and friends.